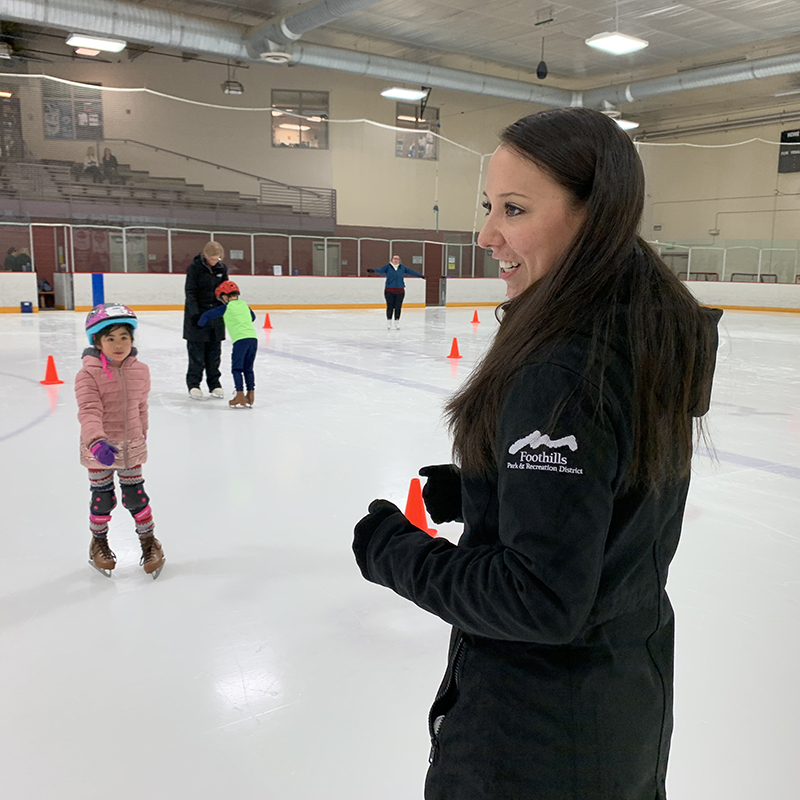 ---
"One of my favorite things about working at Colorado Credit Union and coaching at the Edge is making an impact." – Whitney Thomas
---
Here at Foothills, our mission is Creating Community, Enhancing Health and Inspiring Play. Which is why we love highlighting stories of people in our community who embody that mission.
A perfect example of all three is Whitney Thomas, a Figure Skating Coach at Edge Ice Arena and Senior Marketing & Business Development Specialist at Colorado Credit Union. Through her many connections to Foothills Park & Recreation District, Whitney has been able to impact the community by sharing her life-long passion, while also pursuing a new career.
Whitney is a Colorado native who grew up just east of the District in Littleton. She always loved the welcoming and family-friendly vibe Colorado had to offer. She started figure skating at six years old and instantly fell in love with the sport. "I really liked the challenge of skating and enjoyed how there was always something new to learn, practice or focus on. Skating quickly became my life and I skated more than I did anything else growing up," Thomas said. She competed locally and regionally until age 18.
"I knew that I didn't want to compete forever, but I certainly wasn't going to give up skating," she reflects. In her senior year of high school, she applied to college and planned to attend CU Denver, College of Engineering. During that time, her choreographer and coach helped her put together a video audition for Disney on Ice.
"In May 2009 and all in the same week, I turned 18, graduated high school, and signed my first contract with Disney on Ice! I had only planned on touring for one year and then going back to school. Little did I know, I'd fall in love with skating in a completely different way, while also falling in love with the travel," she said. "Over the many years and different shows I skated on, I was able to play a variety of characters."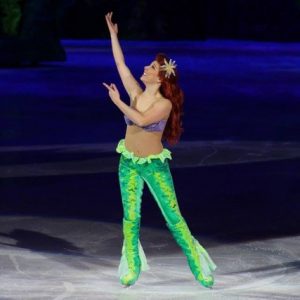 After 38 countries and 10 years of travel, Whitney came back home to Littleton, permanently. While touring, she worked on her degree through CU Denver online. When she got home, she finished her last semester and earned a Bachelor of Arts in Communications.
"Along with completing my degree, I was adjusting to living in one place again and adjusting to a 'normal' job. During this one year transition and adjustment, it was the longest I had been away from the ice since I was six. I was eager to get back into it and knew that I wanted to start teaching. I knew I wanted to teach and help people learn the sport I love so much," she said.
Whitney took a job in Marketing with Colorado Credit Union, just a few miles from Edge Ice Arena. One of the skaters she had trained with growing up was working at the Edge, and since it was close to work, it seemed like the perfect place to start her coaching journey. She began working at Edge Ice Arena in November 2019 and currently teaches Learn to Skate group classes and private students, all while pursuing a Master's degree at CU Denver full time.
And, she was already familiar with Foothills Park & Recreation District through her job, which made her eager to work at the Edge. Colorado Credit Union has been sponsoring Foothills events for nearly 10 years. "People Helping People" is the credit union philosophy. Whitney had already been helping out at Foothills events like Red, White & You and BOO-rific. "I always enjoy seeing the welcoming atmosphere and family-friendly feel. Being a part of these communities feels great and I am so happy that I get to be involved with both of my jobs; CCU and an instructor at the Edge."
When reflecting on the big changes in her life and work since leaving Disney on Ice, Whitney had this to say:  "One of my favorite things about working at CCU and coaching at the Edge is making an impact. Whether it's big or small, being involved and making a difference is everything. I get really excited and sometimes emotional when I am coaching at the Edge and get to experience that moment a kid falls in love with skating or accomplishes something they have been working so hard for. Both of my jobs are very rewarding and I wouldn't have it any other way."