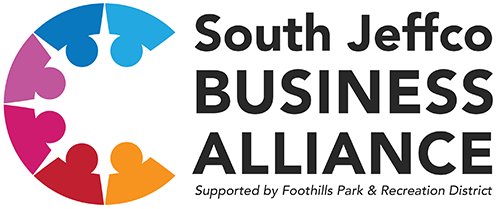 WHO WE ARE
South Jeffco Business Alliance is a non-exclusive business networking group composed of business owners, marketing professionals, sales people, influencers, and community and government leaders.
OUR PURPOSE
Engage Businesses  •  Strengthen Networks  •  Create Community
ABOUT OUR MEETINGS
Sign up the SJBA E-newsletter  |  Like SJBA on Facebook
Meetings are the 3rd Tuesday of each month from 9 – 10:30 a.m. Our programming and presentations run from 9 – 10 a.m., with an opportunity to network afterward from 10 – 10:30 a.m.
A light breakfast is sponsored by a different member each month, providing the sponsor 10 minutes to present to the group. After brief introductions, we have presentations from a wide variety of organizations from across Jefferson County, including businesses, nonprofits and government representatives. Speaker and topic suggestions are always appreciated!
Meetings are usually held at Peak Community & Wellness Center, 6612 S. Ward St., Littleton, CO 80127 in the Maple Room.  Locations may vary, make sure to RSVP for monthly meeting reminders and location details.
Please contact Tory Pearson at tpearson@fhprd.org or 303-409-2157 to RSVP or for more information.
This group is supported by Foothills Park & Recreation District. There is no fee to participate or membership required.