Drop-in Pickleball, ages 12 and up
Pickleball is one of the most popular and fastest growing sports in the U.S. This easy to learn game is played similar to the game of tennis but with small paddles, a wiffle ball and a badminton size court. Don't let the funny name fool you, Pickleball is a recreational game providing extraordinary physical fitness benefits for all ages.
Ridge Recreation Center
6613 S. Ward St.
Littleton, CO 80127
303.409.2333
Monday / Tuesday / Friday:
SEE POLICY ABOVE
7:45-11 a.m.
Sunday:
SEE POLICY ABOVE
9:30 a.m. – 12:30 p.m.
Lilley Gulch Recreation Center
6147 S. Holland Way
Littleton, CO 80123
303.409.2500
Tuesday / Wednesday / Thursday:
12-2:30 p.m.
Foothills Fieldhouse – View Map
3606 S. Independence St.
Denver, CO 80235
303.409.2370
Foothills Fieldhouse is located at Schaefer Athletic Complex (off Hampden service road, east of Kipling)
Monday / Wednesday:
10 a.m. – 12:30 p.m.
Drop-in Pickleball Information & FAQ
Drop-in Price: $5 per person/visit, Non-District: $6.75
For ages 12 and up
All levels welcome
Paddles and balls available for use
Save money with a Multi-Visit Card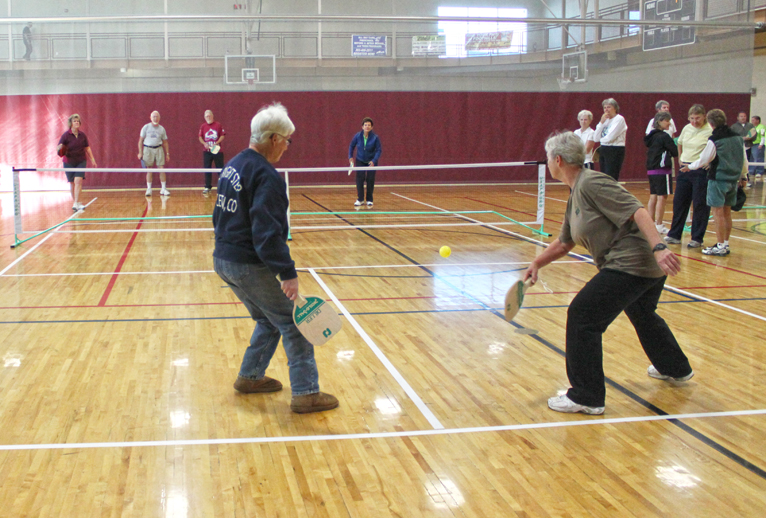 Clement Park Pickleball Courts
Courts available for Open Drop-in Play.
Courts available for reservation.
Park hours: 5 a.m. – 10 p.m.
Court lights available: Dusk – 10 p.m. – times subject to change during off season
Foothills Park & Recreation District programs have priority
Private gain on public property is strictly prohibited

No private lessons or classes
Instruction by Foothills Park & Recreation District only
You can find Pickleball court lines on outdoor tennis courts in the following parks managed by Foothills Park & Recreation District.
First come, first served — please be courteous with your time, share the courts with others waiting to play.
You will need to provide your own net and supplies at these locations:
• Dakota Station Park
• Eagle Meadows Park
• Easton Regional Park
Skills & Drills
Details & Locations:
Clement Park Pickleball Courts – Questions: 303-409-2613
All equipment provided for classes.
Beginner Learn To Play – for players 13 & up new to the game of Pickleball and wanting to learn how to play the game.
Beginner Skills & Drills – recommended for players 13 & up familiar with game.
Intermediate Skills & Drills – for more experienced players only (with a rating of 3.0 and above), who are able to sustain a rally and have a full understanding of the pickleball rules.
Youth Clinics – Pickleball for kids, ages 9-12
Professional Closed Group Instruction
Private Instruction
Ridge Recreation Center – Questions: 303-409-2337
A variety of Skills & Drills classes offered.  Utilize the Class Registration button to view options.
Coming Soon
Youth Camps, Private Lessons, Leagues and Tournaments